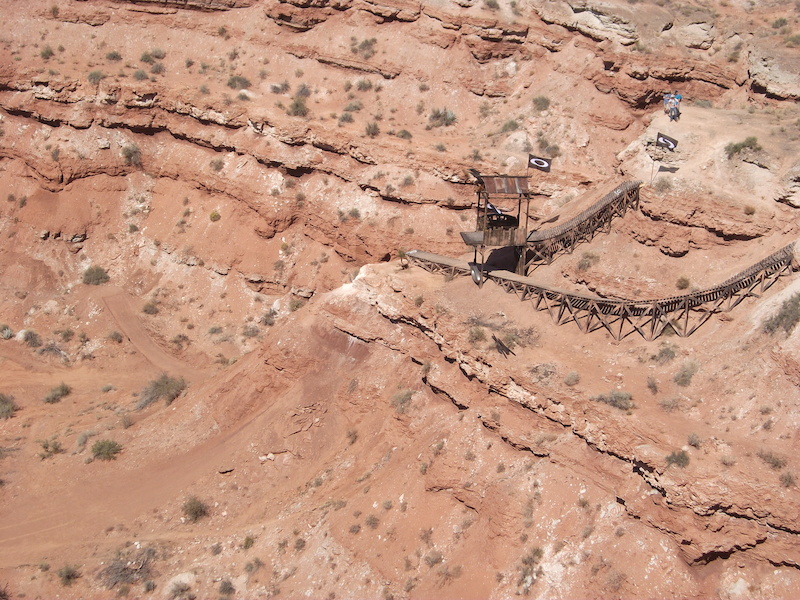 ©
scott-townes
Introdução
: Os grandes nomes do mountain bike estão concentrados no deserto Utah.
O Rampage fecha o calendário FMB World Tour 2012, com um grande evento classificado Diamante. A mais «extreme» de todas as competições, é onde o downhill, freeride e dirt jump se ligam, para uma aventura slopestyle.
Bikes
: A primeira duvida dos participantes começa por escolher o gênero de bike, que varia pelo tipo de descida que vão fazer.
Possivelmente a bike que mais se adapta ao terreno e aos enormes saltos é a «downhileira» passo a expressão, por ter suspensões com mais curso, dá mais estabilidade e mais control a alta velocidade.
Mas muitos riders, preferem agilidade e leveza, podem optar pelas bikes freeride, para ganhar pontos com manobras do gênero tailwhip, barspin, só possível com suspensão croa simples.
Não é brincadeira, é a final.
Uma curiosidade, são três riders do topo do ranking FMB a discutir o titulo. Söderström e Genon, primeiro ainda tem de passar na qualificação, para discutir o titulo com Semenuk já pré-qualificado. O Semenuk precisa de classificar-se nos primeiros 3 lugares para renovar o titulo campeão FMB World Tour.
A final é transmitida em directo para todo o mundo na redbull.tv
será que a limites nesta prova? imperdível.. mas sem esquecer a grande Avalanche Lousa, que se realiza no mesmo dia.
Description:
Launched in 2001 and held annually through 2004, Red Bull Rampage brought the creative, unrestricted ethos of freeride mountain biking to the contest arena while staying true to the sport's core ideals. Poised on a sandstone ridge in the brutal landscape near Virgin, Utah riders were free to chose whatever line they dared between an established start gate and the finish line 1,500 vertical feet below. Exactly what happened between those two points has become legendary.
Location: Virgin, Utah
Qualifier: October 5, 2012
Final: October 7, 2012 (live webcast)
Ver:
FMB WORLD TOUR: RED BULL RAMPAGE, USA
7 Oct 2012 8:00 pm - 7 Oct 2012 11:25 pm (PORTUGAL)
Pre Qualified to Final on October 7th:
Gee Atherton GBR
Darren Berrecloth CAN
Logan Binggeli USA
Robbie Bourdon CAN
Geoff Gulevich CAN
Andreu Lacondeguy ESP
Tyler McCaul USA
Alex Prochazka CAN
Brandon Semenuk CAN
Kurt Sorge CAN
Kyle Strait USA
Thomas Vanderham CAN
Cameron Zink USA
Qualifier: October 5, 2012 - Start List
Antoine Bizet
Garett Buehler
James Doerfling
Brendan Fairclough
Pierre Edouard Ferry
Thomas Genon
Casey Groves
Mick Hannah
Mike Hopkins
Brendan Howey
Ramon Hunziker
Mike Kinrade
Cam McCaul
Kelly McGarry
Anthony Messere
Kyle Norbaten
Sam Pilgrim
Brett Rheeder
Curtis Robinson
Nick Simcik
Martin Soderstrom
Chris Van Dine
Nico Vink
Greg Watts
Wil White
Info: FMB World Tour
Ranking:
NO. 1 Brandon Semenuk USA points 4250,00
2 Martin Söderström SWE 4217,50
3 Thomas Genon BEL 3948,75
4 Brett Rheeder CAN 3685,75
5 Sam Pilgrim GBR 3523,75
6 Yannick Granieri FRA 3469,85
7 Anthony Messere CAN 3405,40
8 Sam Reynolds GBR 3112,50
9 Cameron Zink USA 2798,55
10 Casey Groves CAN 2722,45
QUOTES - CITAÇÕES:
Curtis Robinson: The most exciting part for me is getting to see so many of the top riders from our sport riding lines that most wouldn't even think were possible. Having the option to create your own vision into a contest line is every athlete's dream.
Thomas Vanderham: I'm just looking forward to getting back down to the desert. It's always such a wild week. This will be my seventh Red Bull Rampage and I've seen the event change a lot through the years. I'm hoping that they don't groom the hill too much and keep it like the good old Rampage.
Cam McCaul: Mostly I'm just looking forward to spending as much time on my bike as possible. It's easy to get overwhelmed at Red Bull Rampage and spend too much time scouting and building, but what I really want to do is just enjoy the riding. I'm really pumped for the canyon gap [shown above]. I've seen some photos of it online and it looks amazing! I want to get some good tricks on that thing.
Brendan Fairclough: Just looking forward to seeing the mountain and what everyone has to throw down. I think it's going to be a big learning experience for me. I'm just stoked to throw down what I have and enjoy myself. Maybe a scare here and there won't hurt, either.
Sam Pilgrim: I'm just excited to see everyone and have a good party!
Cam Zink: I just can't wait to be there and start riding. It's like a second home and a place where I am always happy.
Mick Hannah: I am most looking forward to the opportunity to create my own line and hit some of the biggest jumps in the world -- certainly the biggest jumps within competition. Red Bull Rampage has been a huge part of really pushing the boundaries of our sport so it's exciting to be a part of it finally. I love our sport and I love seeing it grow.
Greg Watts: I'm always excited to see what they've built for us. What I'm most looking forward to is finding a new, unique line and building it. I think that is the coolest part about Red Bull Rampage, because you can find something that best fits your riding style and make it your own part of your run. It's always cool to see what other people are building, too.
Wil White: I'm looking forward to seeing longer lines from the top. I've heard the builders are cutting new trails so the start this year will be higher up. I'm really hoping that they leave the man-made features to a minimum. The only man-made features should be things that are necessary to continue a line from the top or add flow to the trail. I appreciate the merging of slopestyle and freeride, but to me it's not what Red Bull Rampage is about. For this reason I'll be looking forward to the lines that guys like Darren Berrecloth put up. The Claw always builds a good line, all hand-built and natural, pure freeriding. I'll be trying to do the same with my line.
Martin Söderström: Because it's my first year at Red Bull Rampage and I have been watching videos from the event since I was a little kid, I'm just looking forward to seeing the area and am very curious to see how it feels to ride. Because it's such a different event than I am used to I'm also really looking forward to just seeing everyone throw down!
Andreu Lacondeguy: I'm looking forward to seeing everyone pushing it to the next level and for sure I want to see the craziest lines!
Brandon Semenuk: The new higher start and the potential for more natural-built lines.
Tyler McCaul: I'm looking forward to seeing how all of the guys who don't typically ride big mountain do. Things are looking a lot steeper and deeper this year so it'll be interesting to watch all of the Red Bull Rampage rookies. I was a Rampage rookie last time, and I'm definitely glad I got that out of the way for this year!
Garett Buehler: I'm excited to see how the course is built this year. I hope it's not too much of a slopestyle event with too many buffed-out, built features. I'm also stoked to see my friends and see how everything unwinds in the finals.
Ramon Hunziker: It's my first time to be part of Red Bull Rampage, so I'm really looking forward to riding the terrain in Utah. We don't have anything similar in Switzerland.
Geoff Gulevich: I'm looking most forward to seeing each rider's own vision of the mountainside we get presented. It interests me a great amount to see different rider's styles and visions of what we all love and live to do.
Mike Kinrade: I'm kind of indecisive about all the wood features and how it has all evolved over the years; it's not at all what it used to be. There is a lot more at stake for every rider on the roster. People are coming early and bringing full pit crews, build crews, all sorts of stuff. It has changed -- a lot. I'm most looking forward to riding and watching the riders who can show what this event is truly about: some serious big mountain shredding.
Casey Groves: Honestly, I'm just looking forward to being back at Red Bull Rampage. I'm very interested to see what the lines are going to be like this year and all the wooden features that are built on the massive hills -- I'm always so impressed!
Kelly McGarry: I'm just looking forward to being out there in the desert. It's a unique part of the world and it's cool to be able to head out there with your bike and a bunch of your friends to take in the views and shred all the cool stuff the crew has built.
Chris Van Dine: I'm looking forward to getting out there on my new carbon Yeti and seeing which of the young guns emerge and put big lines together as this chapter unfolds. Red Bull Rampage is a proving ground and a great opportunity for people to make things happen. Some of the guys let Rampage scare them and don't even show up, but I love every minute of it.
Cam McCaul's Rampage Bike Build
Rampage 2012 Binggeli salto do Oakley Sender
«A informação deste tópico foi um trabalho de pesquisa feito exclusivamente para flui na bike blog, se gostou dos textos, por favor ajude a divulgar o nome e endereço deste blog, por exemplo em redes sociais, Muito Obrigado»