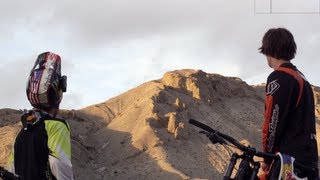 Semenuk e Cam Zink apanharam neve, frio e muito vento no deserto Utah. Procuraram as zonas mais extreme para fazer umas descidas. Quando Zink tem receios é porque não é nada fácil...
O episódio mais interessante da segunda temporada, na minha opinião.
DESCRIPTION:
Brandon Semenuk and Cam Zink set out on a motorhome trip to Utah for some ultimate freeride mountain biking sessions. The boys search the land for new zones and seek out the gnarliest lines before dropping in. But before they get on their bikes, the snow sets in and creates some downtime for the boys which calls for explosions in the desert.
ALL EPISODES: