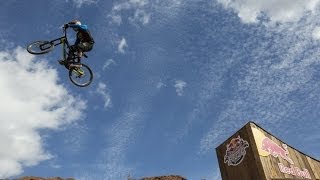 A maior pontuação foi para Kyle Strait.
A run é realmente muito boa, acho que Kyle foi o justo vencedor, porque tem tudo o que os júris querem ver no Rampage.
Tem um grau de dificuldade elevado de inicio ao fim, rápidez constante e movimentos fluídos, é criativa e sem falhas.
Ainda assim, no geral a run que mais me chamou atenção, foi a do Graham Agassiz, sinceramente é das melhores que vi no Rampage, absolutamente genial, infelizmente não conseguiu chegar á "meta" pois fiquei era curioso saber a pontuação, acho que ia complicar muito as contas.
DESCRIPTION:
Kyle Strait's killer run at Red Bull Rampage made him the winner of Red Bull Rampage and the only rider to win the competition more than once.
Pedal over to http://redbull.com/rampage for more action.
Results:
1. Kyle Strait USA - 87.50
2. Kelly McGarry NZL - 86.75
3. Cameron Zink USA - 84.75
4. AndreuLacondeguy ESP - 84.25
5. Tyler McCaul USA - 80.50
6. Pierre Edouard Ferry FRA - 76.50
7. Cam McCaul USA - 75.75
8. Brendan Fairclough GBR - 75.50
9. Garett Buehler CAN - 74.50
10. Thomas Genon BEL - 72.50
11. Ramon Hunziker SUI - 71.50
12. Mike Montgomery USA - 66.75
Best Trick: Cam Zink
People's Choice: Kelly McGarry