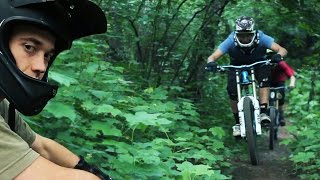 Nos ultimos anos Jordan produziu videos altamente interessantes. Aqui temos a playlist com os videos da sua conta no youtube,
DESCRIPTION: This is what I call Freeride Mountain Biking! I got 3 Freeride Mountain bike riders to shred in my new video filmed at all the local mountains! ...
This is one of the best mtb videos I made this year so I am really excited to have this video finished for you all! Ethan Saathof, is the rider in the first and last segments,Jacob Dececco, Zack Schjodt are the mountain bike riders in the middle two segments. We filmed at Ledgeview, Vedder, and Sumas mountain.
I spent 5 different days filming this video, just a few hours of filming each day, but that's what I did for this 4 segment video!
This video is kind of like and unofficial sequel to my video 'Freeride Mountain Biking' that I released 2 years ago.
I spent a good amount of time planning for this video, and I am pretty happy with how it turned out
The song used in this video is called 'Escape From Area 51'
http://www.premiumbeat.com/royalty_fr...