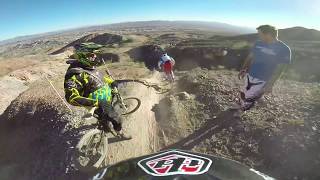 TOP! A pista é do melhor.
Já reparei que os POVs do Gwin tem partes tão rápidas e tão fluídas que parece inacreditável.
Mas tem explicação, ele consegue atingir grande velocidade, vai aos limites, e não perde fluidez.
Por isto é um dos mais rápidos do mundo.
USA
DESCRIPTION:Helmet cam of Charlie and I doing a practice run on our Specialized Demo 8's at the 2013 Nevada state champs at Bootleg Canyon. Awesome weekend riding with all our friends on a fun track. That's what it's all about!