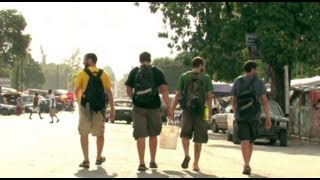 Uma história mesmo Extreme!
Por isso é de boa vontade que partilho o video aqui.
No nosso mundo "moderno" mais de 1 bilião de pessoas vivem com menos de 1$ por dia. 4 corajosos querem um mundo melhor, resolveram fazer um documentário filmado por eles a viver com 1$ por dia em Port-au-Prince, Haiti.
DESCRIPTION: We invite you to share in their story, and learn with us what life is like for the 1.4 billion people living in extreme poverty.
Spread awareness by sharing this video with friends and family on Facebook and Twitter. Share with your school, organization, or church, and contact us if interested in receiving a presentation from Poverty Resolutions.