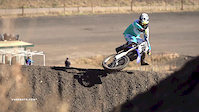 O que leva um piloto Motocross a mudar-se para o Downhill? Certamente que não é mudar de cavalo para burro, como se costuma dizer. Ele já sabe o que é velocidade e sabe o que é voar alto, mas ainda assim vai ter de treinar muito para ser bem sucessido, o nivel competitivo da taça do mundo Dh é fortissimo.
USA
DESCRIPTION:Mike Giese is quickly making a name for himself in the DH world. The new ripper out of Colorado shows you his skills with a dirt bike and BH Bike. Vurb Original Films by Jimmy Bowron
Song: Sir Sly "Gold"
Changing Gears - Ft. Mike Giese