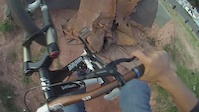 oooi, video Legal! uma série de dirts grandes, com um step-up no final, excelente spot para a partica de dirt jump.
O Brasil não é só futebol e Samba, parece que está em crescendo o desporto radical, MTB, BMX, Skate, Surf etc. O problema é que os brasileiros ainda tem uma moeda bastante baixa em relação ao Euro, o que torna as bikes e peças importadas, muito caras para eles. Se aqui tudo nos parece caro, lá então é pior.
DESCRIPTION: Having a fun session at the jumps with my friends!