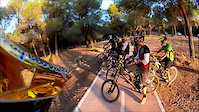 Um video interessante, pela "qualidade" destes trilhos.
Fiquei com a sensação que a pista passa por um rio/ribeiro seco?
Ah ah.. alem de criativo, aquilo pareceu-me bastante divertido.
DESCRIPTION: back to Zubia in Granada(Spain). With friends, fast and fun track!
DESCRIPTION:The last race out of three of the 'Bullbikes Cup' was in La Zubia, Granada. The track lasted around 5 minutes, with spectacular mid zone, with several jumps, that the public really enjoyed.